At the beginning of July, seven additional Humira® (adalimumab) biosimilars, including one interchangeable, joined Amjevita™ (adalimumab-atto) in the US marketplace.  Abrilada™ (adalimumab-afzb) is the only FDA-approved adalimumab biosimilar that has not yet launched, although launch was expected as early as July 2023, and therefore may be imminent. Humira brought in over $21 billion in the US in 2022, and biosimilars have long hoped to gain a share of that market, while bringing costs down for patients and payers.
Many have hoped to gain insight into the workings of the biosimilar market through these biosimilar launches, but several unique aspects of the adalimumab market may make it difficult to extrapolate insights from this market to the biosimilars industry as a whole.
The adalimumab market is unique in a number of ways that may impact uptake, many of which are summarized in the chart below: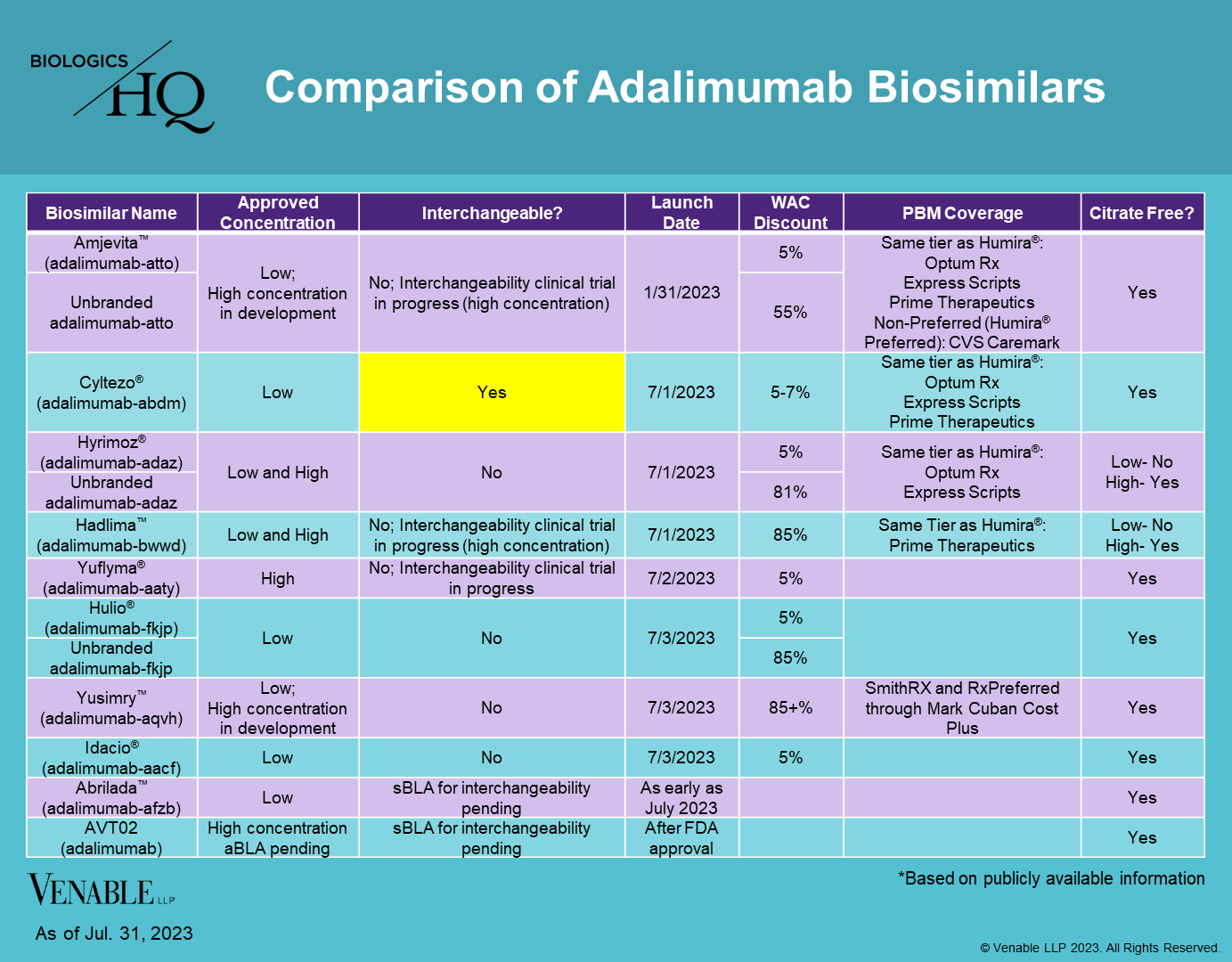 Self-Administration: Adalimumab biosimilars are self-administered, joining insulin biosimilars as the only other biosimilars that are not given by a healthcare provider.  Self-injected biosimilars are the most likely to benefit from an interchangeability designation because the patient obtains them from a pharmacy that can perform an automatic substitution, as opposed to their doctor, who makes the determination which product to give them directly.
Concentration: Humira and its biosimilars are available in two concentrations, low-concentration, which accounts for about 15% of prescriptions and high-concentration, accounting for about 85% of prescriptions.  Of the approved biosimilars, only three, Hyrimoz® (adalimumab-adaz), Hadlima™ (adalimumab-bwwd), and Yuflyma® (adalimumab-aaty) are approved in the high-concentration formulation.  Therefore, most of the approved biosimilars are competing for only a small share of the market.  The high-concentration market is less crowded and does not have an interchangeable currently approved.
The biosimilars also vary by the presence or absence of citrate, which when present can cause patients more pain at the injection site.  While most of the biosimilars are citrate-free, low-concentration Hadlima and Hyrimoz do contain citrate, which may be a drawback for patients.
Interchangeability: Out of the eight adalimumab biosimilars currently on the market, only Cyltezo® (adalimumab-adaz) is approved as interchangeable, which allows for automatic substitution at the pharmacy, subject to state laws. Abrilada and AVT02 (adalimumab) have interchangeability applications pending with the FDA.
AVT02 is the only high-concentration biosimilar currently seeking an interchangeability designation; however it has faced difficulty receiving FDA approval, and has received three complete response letters to date due to manufacturing issues.
Clinical trials are in progress for high-concentration interchangeable versions of Amjevita, Hadlima, and Yuflyma.
Method of Administration: Humira is available in both prefilled syringes as well as a prefilled autoinjector pen.  The biosimilars all have prefilled syringes and autoinjector pens as well, but each has its own version.  It is possible patients may prefer one version to another because of comfort and ease of use.
Competition: Amjevita entered the US market at the end of January, giving it a six month lead on the following seven competitors, all of which launched within the first few days of July.  No previous biologic drug has faced this many biosimilar competitors in such a short period of time.  Although Amjevita only captured about 4% of the market during its first quarter after launch, its first-to-market status appears to be having some benefits in insurance coverage, as it has been placed on the formulary for the four of the five biggest pharmacy benefit managers (PBMs) (Humana has not announced its coverage of adalimumab biosimilars).  This may prove to be a continued advantage if the high-concentration, interchangeable version of Amjevita that is in development is approved by the FDA.
One disadvantage for Humira biosimilars is that the adalimumab market is shrinking.  In 2019, prior to biosimilar launch, a competing product, Skyrizi® (risankizumab-rzaa) entered the market for some of Humira's indications, including moderate-to-severe plaque psoriasis, active psoriatic arthritis, and moderately to severely active Crohn's disease.  Another competitor, Rinvoq® (upadacitinib) also entered the market in 2019 for other Humira indications, including rheumatoid arthritis, psoriatic arthritis, and ankylosing spondylitis.  Due to these new drugs, the potential market for Humira that biosimilars were hoping to capture has already started to shrink.
Insurance Coverage: The biggest PBMs that have announced coverage of adalimumab biosimilars have chosen 1-3 biosimilars to include on their formularies, usually placing the biosimilars on the same tier as Humira (see chart above).  In one instance, CVS Caremark, the biosimilar was placed on the non-preferred tier, with Humira being preferred.  Some biosimilars have yet to be picked up by any large PBMs, which could have a significant impact on their ability to gain market share.
Pricing: Biosimilars have launched with a variety of price points, ranging from a wholesale acquisition cost (WAC) of a 5% discount to Humira to a discount of over 85%.  A number of biosimilars have launched a branded version at about a 5% discount and an unbranded version at a 55-85% discount to Humira.  Presumably the higher price points allow biosimilar manufacturers to negotiate rebates with insurers.  When biosimilars are placed on the same formulary tier and have small discounts from the originator, there can be little cost difference to patients, which may limit incentives to switch and in turn limit uptake.
It will be interesting to see how this pricing strategy affects uptake as so far there has only been one other biosimilar with this strategy, the Lantus® (insulin glargine) interchangeable Semglee® (insulin glargine-yfgn).  According to a report by Samsung Bioepis, unbranded Semglee has obtained a slightly higher market share of 6% verses Semglee's 4%.  However, according to a report from the Biosimilars Council, insurance coverage for the lower cost unbranded version of Semglee has been more limited than for the higher cost, higher rebate branded Semglee.  Innovators have also launched unbranded versions of their products to compete with biosimilars, including unbranded Remicade® (infliximab) and unbranded Lantus.  These unbranded versions so far have seen limited uptake of about 5% and 2% of their markets respectively.
The innovator's reaction to competition can also have an impact on biosimilar market share.  In cases where the innovator has lowered its price in response to biosimilar competition, innovator market share has remained high in comparison to innovator drugs that have maintained their prices despite competition.  For example, Epogen®/ Procrit® (epoetin alfa) matched the averages sales price (ASP) of biosimilar Retacrit® (epoetin alfa-epbx) and have maintained a combined 65% market share.  While it is unclear whether and how much Humira's price will change in the US, it is possible it will decrease in order to maintain market share.  In Europe, Humira was priced at a discount of 89% in some instances to retain its business.
Indication: Based on the data thus far, biosimilar uptake has been rather indication specific, with drugs that are taken for a shorter period of time, like oncology drugs, having higher biosimilar usage than drugs take for much longer, such as autoimmune drugs and insulin.  Since adalimumab indications are for autoimmune diseases, it is possible the uptake may be more similar to infliximab biosimilars, where uptake was gradual and eventually reached about 50% market share after many years.
Conclusion
The adalimumab market will be closely watched to see whether biosimilars will be able to obtain significant market share.  Because of the complexities of the US pharmaceutical market, and the unique aspects of the adalimumab market in particular, it is difficult to predict what the future impact of the newly launched biosimilars will be.