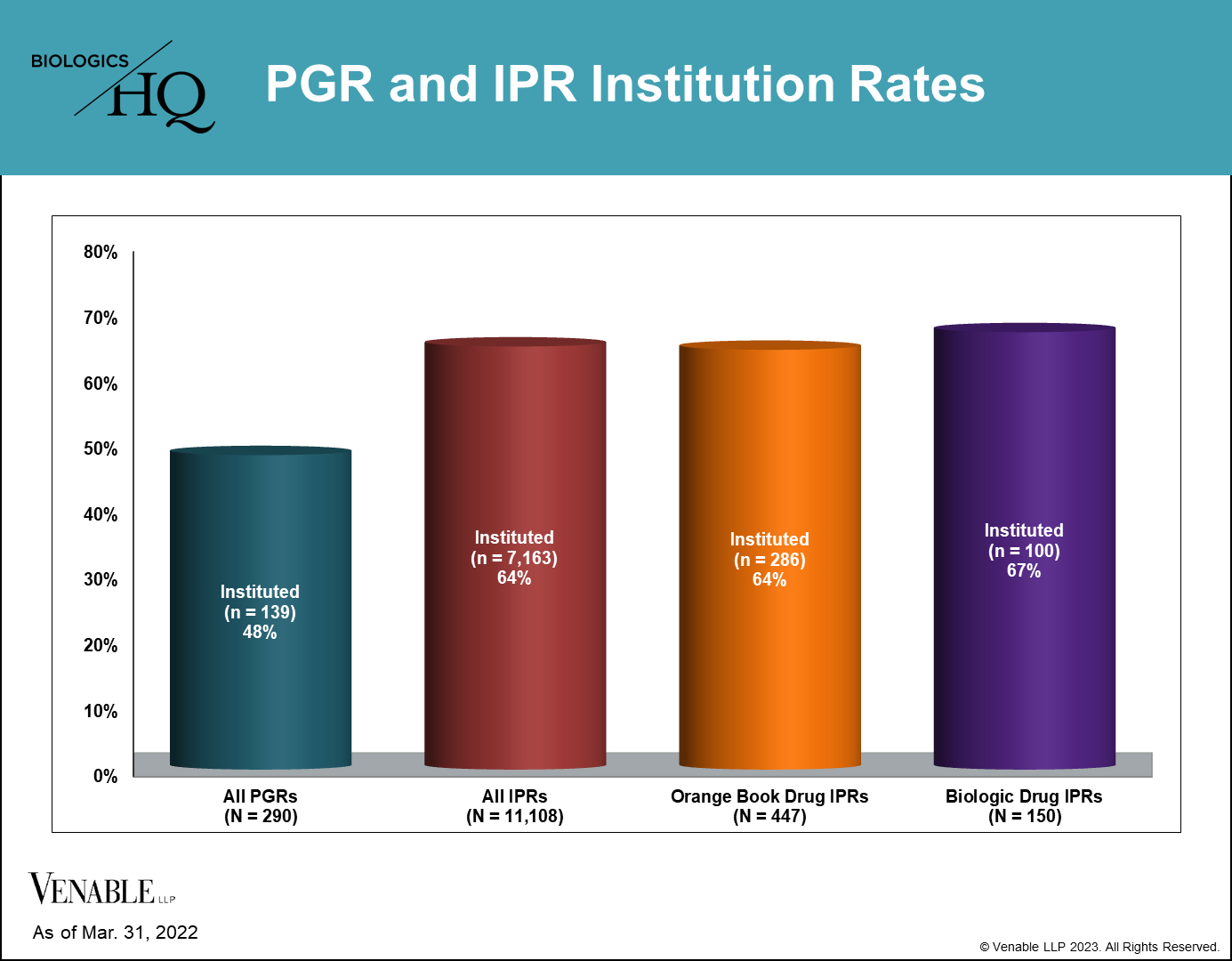 This figure shows institution rates for PGRs compared to IPRs[1] for all technologies as well as Orange Book and biologic drug IPRs.  It is noteworthy that compared to the 48% institution rate for PGRs (n=139 of 290), IPRs have been instituted at a significantly higher rate (64%, n=7,163 of 11,108).  This higher rate is also seen for both Orange Book and biologic drug IPRs (64%, n=286 of 447 and 67%, n=100 of 150 respectively).
If current trends continue, a possible reason why PGRs are instituted at lower rates compared to IPRs may reflect the more limited timeframe for which a PGR is available to challenge patents, i.e., within 9-months after patent issuance, which presents additional hurdles to petitioners in developing an evidentiary record, compared to in an IPR which does not have such time limitations.  This time limitation is impactful given that in a PGR there are many more possible invalidity challenges available to a petitioner (e.g., §§ 101, 102, 103, 112 and double-patenting) compared to only §§ 102 and 103 in an IPR.  The broad scope of PGR invalidity challenges imposes additional burdens on PGR petitioners in terms of resources that are required to fully develop the evidentiary record necessary to meet the institution requirements (e.g., a much broader scope of prior art needs to be collected and reviewed to show the state of the art for written description and enablement challenges and an increased demand for expert testimony).  Petitioners must consider every challenge type even if they are not all ultimately raised in the petition because estoppel can attach to grounds that reasonably could have been raised in a PGR.
[1] IPR institution rates are based on PTO data available at: https://www.uspto.gov/patents/ptab/statistics/aia-trial-statistics-archive.
BiologicsHQ and materials published on BiologicsHQ are published for informational purposes only.  Neither the information nor any opinion expressed on BiologicsHQ constitute legal advice, create an attorney-client relationship, or constitute a solicitation for business.