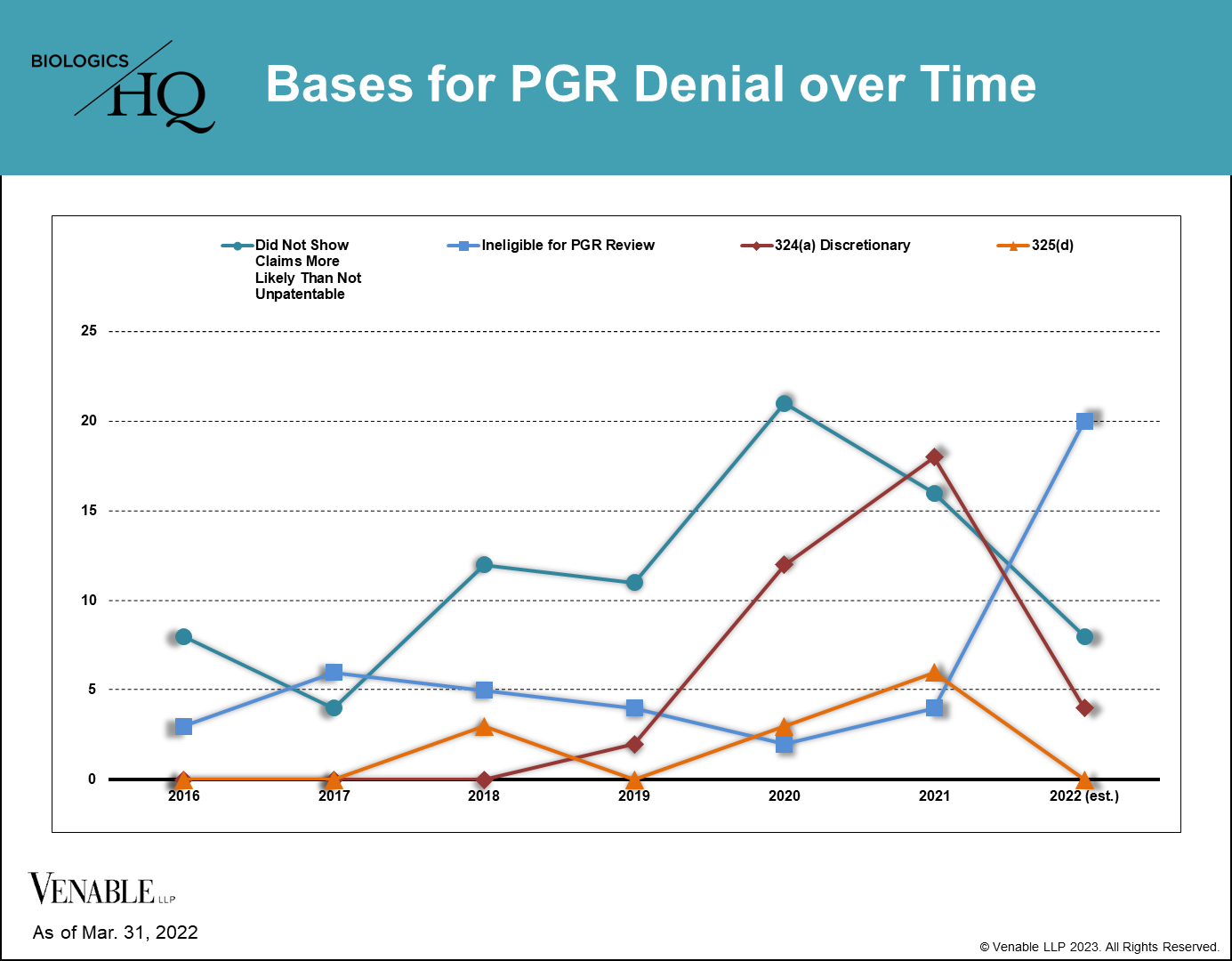 This figure shows the bases for PGR denials over time.  The PTAB has increasingly denied PGR (and IPR) institutions for procedural reasons.  In 2021, procedural denials were the most frequent reason for PGR institution denials.
The increase in the use of procedural denials under 324(a) is largely the result of changes in PTAB procedures beginning in 2019 related to its 2018 NHK v. Intri-Plex Technologies decision, designated as precedential in May 2019[1], and the Apple v. Fintiv[2] decision designated as precedential in May 2020, the latter in which the PTAB elaborated on NHK, providing a list of factors to be weighed in determining whether to institute an IPR where there is a parallel proceeding in district court or in the International Trade Commission.  In Fintiv, applying these factors, the PTAB affirmed discretionary denial where a parallel district court litigation was at an advanced stage.
The NHK-Fintiv factors have been controversial.  While cases challenging them in the Supreme Court were denied certiorari this year,[3] their fate remains unclear as the PTO has solicited public comments on the use of the NHK-Fintiv factors, and Senator Leahy has sought to eliminate their use through a bill, the "Restoring the America Invents Act," introduced in the Senate in September 2021.  Changes to the ability of the PTAB to use procedural denials based on NHK-Fintiv factors will likely affect the rate of PGR institutions going forward.
[1] NHK Spring Co. v. Intri-Plex Technologies, Inc., No. IPR2018-00752, 2018 WL 4373643 (P.T.A.B. Sept. 12, 2018).
[2] Apple Inc. v. Fintiv, Inc., No. IPR2020-00019, 2020 WL 2126495 (P.T.A.B. Mar. 20, 2020).
[3] See Mylan Laboratories Ltd. v. Janssen Pharmaceutica, N.V., Supreme Court Case No. 21-202 (cert denied January 18, 2022);  Apple Inc. v. Optis Cellular Technology, LLC, Supreme Court Case No. 21-118 (cert denied January 18, 2022).
* 2022 estimates are based on Q1 2022 data.  It is too early in the year to draw any conclusions on trends in 2022.
BiologicsHQ and materials published on BiologicsHQ are published for informational purposes only.  Neither the information nor any opinion expressed on BiologicsHQ constitute legal advice, create an attorney-client relationship, or constitute a solicitation for business.