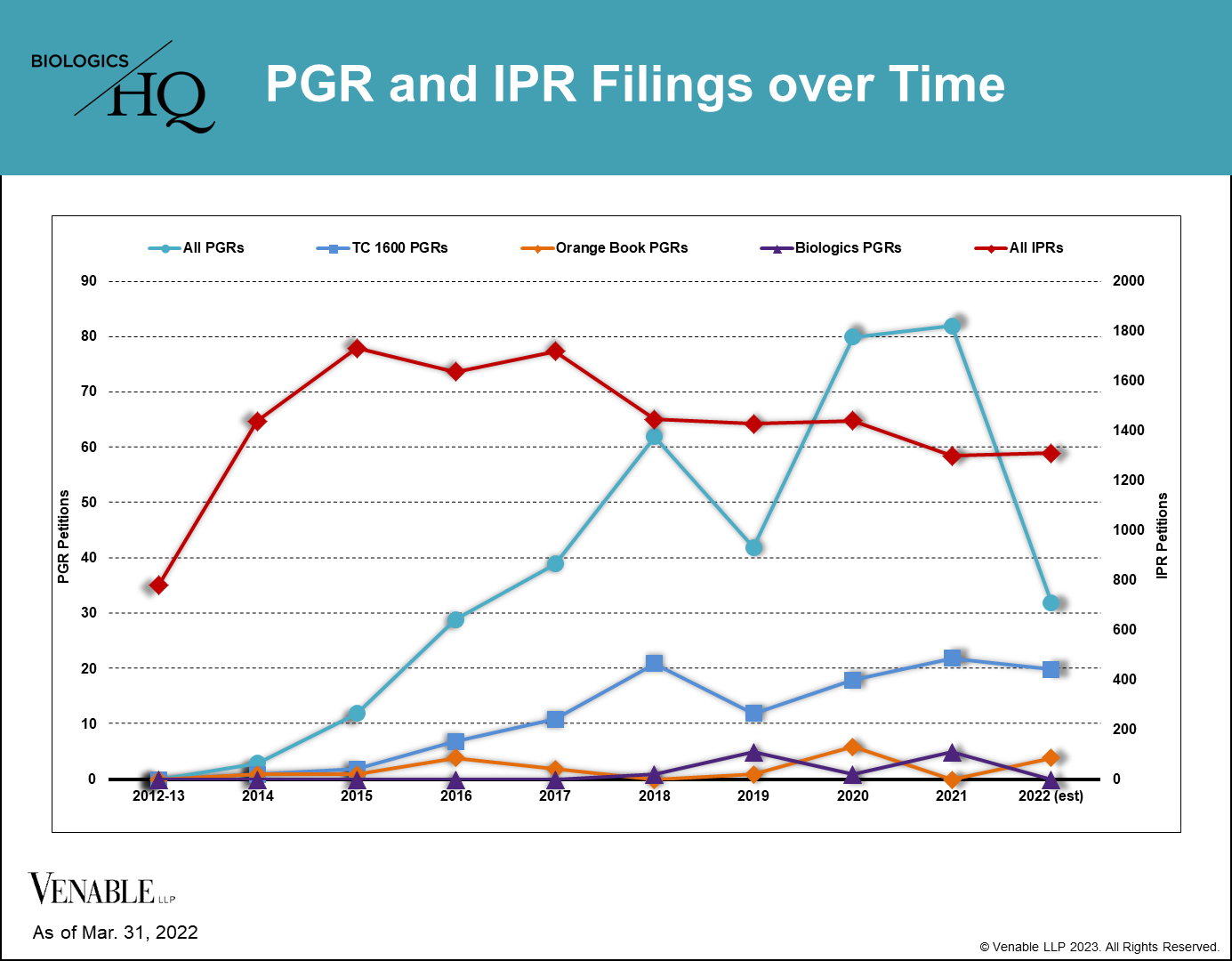 This figure shows the number of PGR and IPR petitions filed since their inception in 2012 through March 31, 2022.  For our analysis, we reviewed PGR filings for all patent technologies (teal line) as well as the subsets of PGRs filed on Orange Book-listed patents (orange line), CDER-listed biologic drug patents ("Biologics") (purple line), and TC 1600 patents (blue line).  PGR filings have risen steadily over time and were the highest ever in 2021, but are projected to drop in 2022* based on the first quarter of filings.  In comparison, IPR filings (red line) were highest between 2015 and 2017, followed by a decrease in 2018 that continued through 2021.  Based on data from the first quarter of 2022, IPRs filings are projected to remain steady in 2022.
While the total number of biologic drug PGR filings to date is still low compared to the number of biologic drug IPRs (N=12 vs. N=171, respectively), it is likely that biologic drug PGR filings will continue to increase over time, particularly given the increased number of biosimilars being developed based on reference products that were FDA approved in recent years.  The first wave of biosimilars referenced biologic drugs approved many years ago (e.g. Humira® (adalimumab) approved in 2002; Remicade® (infliximab) approved in 1998; Neupogen® (filgrastim) approved in 1991).  Since PGRs can only be filed within the first nine months of patent issuance, few reference products for the first wave of biosimilars had patents that issued recently enough to be available for PGRs.  As a result, to date most of the PGRs on biologic drug patents have not been filed by biosimilar manufacturers but instead by entities with competing products directed to similar biologic targets.  This may change over time as biosimilars to more recently approved reference products become available.
In addition to the time constraints for filing PGRs previously discussed, another reason PGRs have been filed at a much lower rate than IPRs is likely because the broader scope of invalidity challenges available in a PGR creates a far greater risk of a broader scope of estoppel, which is a formidable issue for petitioners considering whether to file a PGR.
*2022 estimates are based on Q1 2022 data.
BiologicsHQ and materials published on BiologicsHQ are published for informational purposes only.  Neither the information nor any opinion expressed on BiologicsHQ constitute legal advice, create an attorney-client relationship, or constitute a solicitation for business.