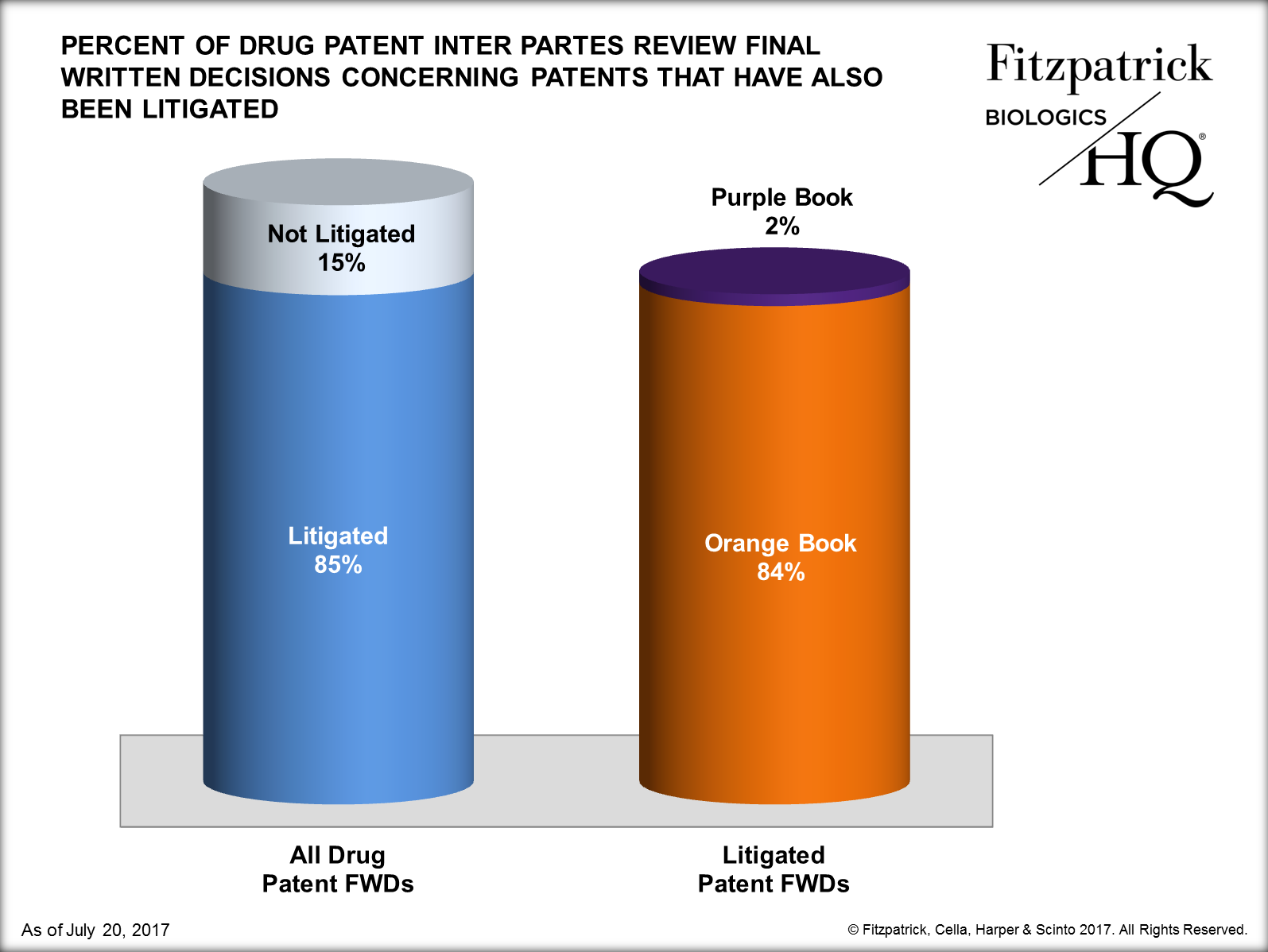 Eighty-Five Percent of Drug Patent FWDs Concerned Patents That Have Also Been Litigated
As of July 20, 2017, 85% of 116 drug patent final written decisions ("FWDs") concerned drug patents that have also been challenged in Federal district court litigation. What is interesting, although perhaps not surprising, is that the overwhelming number of the FWDs on litigated drug patents concerned Orange Book listed patents. Of the 103 FWDs on Orange Book patents, 94% concerned patents that have been challenged in litigation. The numbers for CDER-listed biologic drug patents ("Biologic Drug Patents") are much lower: there were only 13 FWDs on Biologic Drug Patents, only 15% of which concerned patents that have also been challenged in litigation. These lower numbers for Biologic Drug Patents may not be surprising for a number of reasons: (1) far fewer Biologic Drug Patents have been challenged to date, both in litigation and in IPR; (2) there are far fewer FDA-approved biosimilar drugs than there are generic versions of Orange Book listed reference drugs; and (3) the Biologics Price Competition and Innovation Act of 2009 (BPCIA) "patent dance" (42 U.S.C. § 262(l)) provides a convenient procedure, in advance of market launch, to litigate a narrow subset of biologic drug patents, perhaps reducing the value of pre-emptive IPR challenges.
BiologicsHQ and materials published on BiologicsHQ are published for informational purposes only. Neither the information nor any opinion expressed on BiologicsHQ constitute legal advice, create an attorney-client relationship, or constitute a solicitation for business.